Check out the unofficial sketch of next-gen Hyundai Tucson interior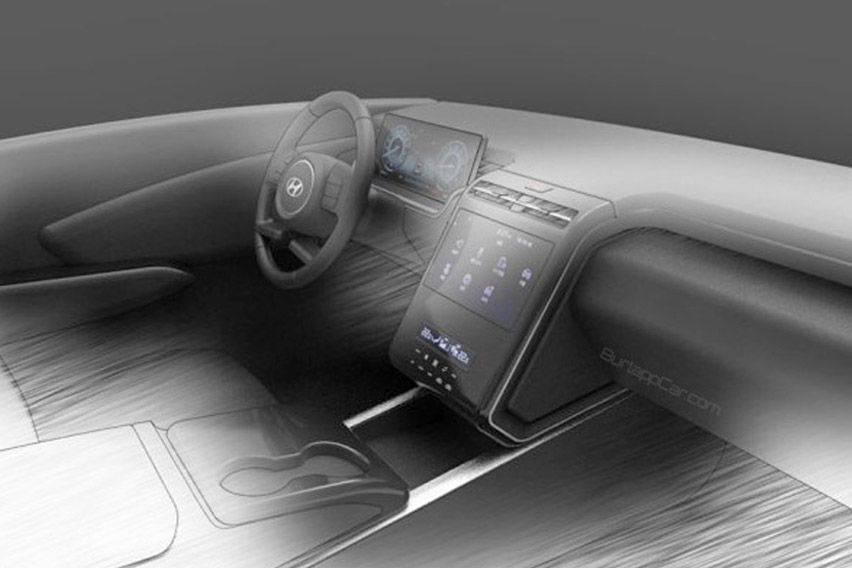 A sketch of third-generation Hyundai Tucson's interior design has recently appeared on the internet. It was posted by World Scoops (a French forum), however, Hyundai has denied releasing. 
The unofficial teaser showcases a futuristic cabin space with a 'wind-screen' tablet, providing a minimalist design approach via the sketch. 
The Hyundai Tucson has been around in the automobile industry since 2015. The car is one of the premium SUV offerings which became a chart-topper in its segment due to its appealing style and spaciousness.
The cabin space of the 2021 Tucson model hints at a large landscape-oriented infotainment screen to provide the occupants with a proper view outside. Adding to the cabin space of the vehicle is a pair of air vents resting over the screen. The infotainment system is also expected to feature climate control options.
According to the sources, the car is expected to provide a vivid and futuristic approach to the instrument panel. The 2021 Tucson is also expected to have a similar steering and grille design approach as the Elantra. The SUV is likely to get some of the best tech upgrades than its predecessors.
Apart from the suspected interiors of the 2021 Tucson, it is also expected to be introduced with an array of engines. The new lineup may include a 2.5-litre Theta 3 four-cylinder engine, a naturally-aspirated unit, or a 2.0L GDI engine alongside an electric motor.
The present generation of the Hyundai Tucson features a new version of the carmaker's 'cascading' grille. The car received a revamp in its styling with the presence of new headlight and tail-light units. The exterior has a new front and back bumpers.
The SUV is powered by a 1.6-litre turbo engine, giving out a power output of 175 hp and a peak torque of up to 265 Nm. The other engine on offer is a 2.0L, giving out 153 hp of power besides giving out a peak torque at 192 Nm.
The new Hyundai Tucson is expected to arrive by the end of 2021.
You might also be interested in