Porsche 911 Targa 4S Heritage Design Edition is a nostalgia bomb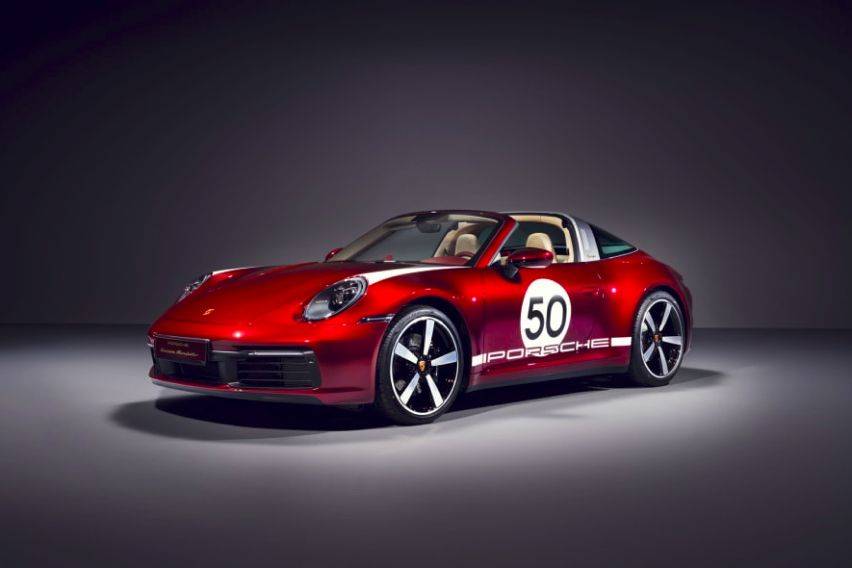 With elements from the 1950s to the 80s, modern-day technology, and ample power courtesy of a flat-six boxer engine, coming out of the Porsche production facilities is the 911 Targa 4S Heritage Design Edition. Based on the 992 generation Targa 4S that was brought out in the flesh by the German automaker last month, the nostalgic bomb will be limited to 992 units and features various exterior and interior design elements inspired by the automaker's history.
The outside of the Porsche 911 Targa 4S Heritage Design Edition comes vaunting spear-shaped graphic motorsports elements, Porsche Heritage badge on the luggage compartment grille, and a 1963 Porsche Crest on the bonnet, steering wheel, wheel centres, vehicle key, head restraints, and key pouch. Furthermore, the retro-modern blend of visuals and mechanicals rides on 20-inch front & 21-inch rear Carrera Exclusive Design wheels and gets blacked-out brake callipers finished. At last, there are gold "Targa" badges, and the color options include Cherry metallic paint, solid black, guards red, metallic GT Silver, and a crayon color.
As for the inside of the special edition model, it is bolstered by a two-tone leather interior that incorporates Bordeaux Red leather with OLEA club leather in Atacama Beige or Black leather with OLEA club leather in Atacama Beige. Similar to the Porsche 356, the seats and the door trims wear corduroy, reminding you of the style of the 1950s.
Under the hood is a 3.0-litre twin-turbocharged flat-six boxer engine capable of generating 450 PS of maximum power and a peak torque of 530 Nm. Mated to the boxer engine is an eight-speed dual-clutch PDK gearbox, which works in conjunction with an all-wheel drive. The Porsche 911 Targa 4S Heritage Design Edition can do a 0-100 kmph run in 3.6 seconds and boasts a top speed of 304 kmph.
"With the Heritage Design models, we are evoking memories of the 50s, 60s, 70s and 80s in customers and fans alike. No brand can translate these elements into the modern-day as well as Porsche and, in this way, we are fulfilling the wishes of our customers. We are also establishing a new product line that represents the lifestyle dimension in our product strategy with these exclusive special editions," says Oliver Blume, Chairman of the Executive Board of Porsche AG.
Also, each of the 992 buyers of the special edition Targa will receive a 911 Targa 4S Heritage Design Edition Chronograph, which takes inspiration from the legendary Porsche 356 and iconic Porsche 911 Targa. Moreover, the watch flaunts genuine Porsche interior leather strap, white second hand, Phosphorus Green rings, and Porsche style fonts.
You might also be interested in